Flue Guard™
The Flue Guard™ keeps your warehouse safe and in compliance with local fire codes. The Flue Guard™ keeps pallet rack flue spaces consistently open and allows for perfect pallet placement in your pallet rack structure without the risk of damaging your product. This pallet rack spacing product also prevents pallets from being pushed through or into open spaces or into adjacent racks causing pallets or product to fall into the aisle, known as pallet push through. By controlling the flue spaces within your rack, the Flue Guard™ adds an extra layer of fire protection to your warehouse by increasing the effectiveness of your sprinkler system. Our patented pallet rack flue space dividing solution is an essential addition to your pallet rack system, providing the strongest and most cost-effective flue space protection on the market.
Flue GuardTM is a registered trademark of Rack Safety Products, LLC 
FEATURES AND BENEFITS OF OUR FLUE SPACE DIVIDERS 
Maintains 6" (or more) longitudinal flue space in double row pallet rack systems as required by International Building Code (IBC2012)
Pallet rack flue space dividers allow heat to escape through the flue to the sprinklers above, initiating sprinklers quicker
Improves sprinkler performance by allowing water to reach lower inventory levels through open flue space
Encourages the fire to spread vertically through the flue space rather than horizontally, potentially spreading to other rows of rack

Maintains even

offsets in the front and back of rack centering the load on the beams.

 

Prevents pallet push through and the potential of injury, or death from falling objects.

 

The pallet rack Flue Guard TM does not come in contact with the product you are storing, only the pallet does, thus minimizing a potential source of damage.

Installs easily and permanently to the beam.

 

Effectively stops two pallet loads with one back to back stop.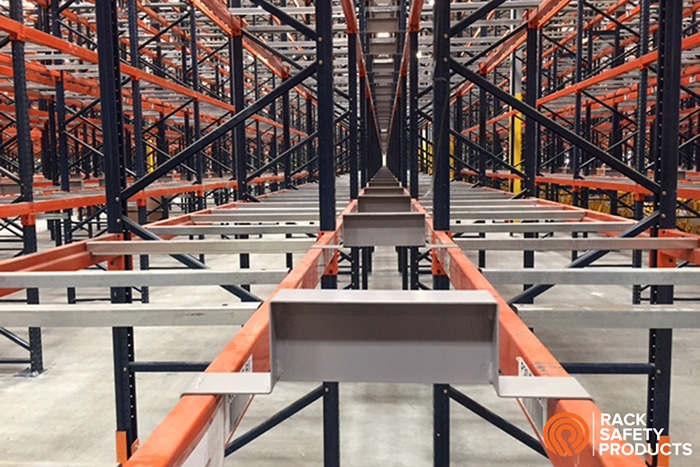 Easily installs on new or retrofitted pallet rack systems
Attaches with high strength tek screws (included) for an easy and fast installation
Compatible with wire decking (up to 2 ga. wire diameter)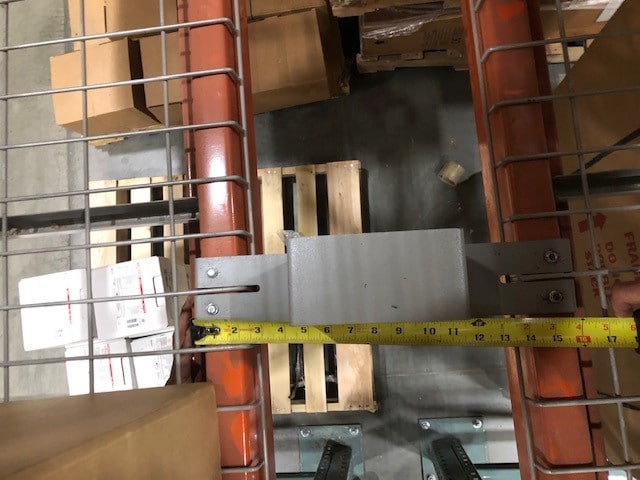 Same height as a 5" pallet thereby preventing product damage – contacts with the wood pallet instead of inventory
Does not require larger row space than 12" (unless product overhangs), whereas beam stop competition may require a larger row space to compensate for the thickness of the beam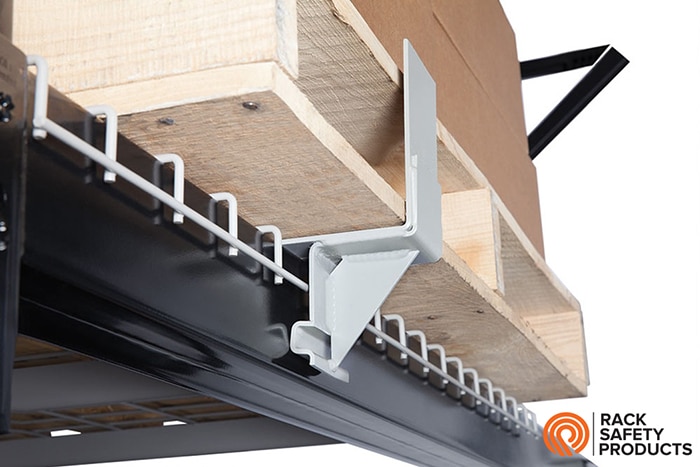 Single row pallet safety stop in stock
Pallet rack flue space control for single row applications
Double walled and gusseted for superior strength
Integral offset rib for wire deck clearance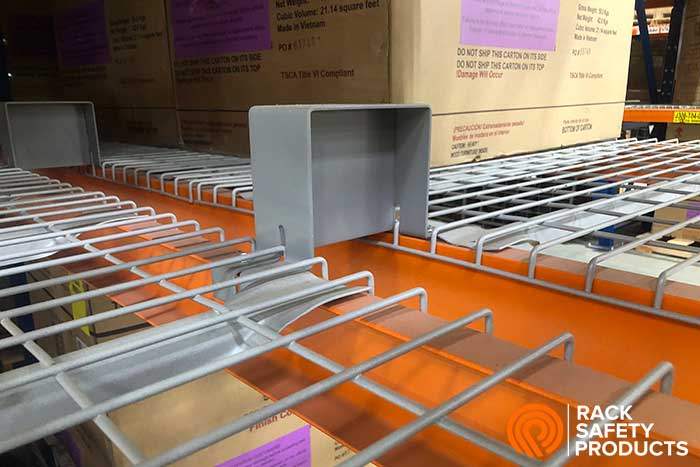 6″ Flue guard in a 6″ space