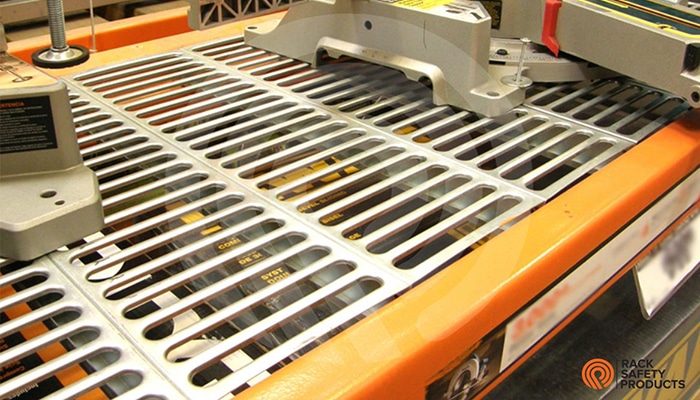 Pro Deck 50™
Pro Deck 50™ is used in industrial pallet racking and shelving and offer the greatest features and benefits of any rack decking product on the market. This slotted steel pallet shelving's versatility in design allows it to be used for many rack applications and meet all of the latest fire codes. This steel pallet rack decking's versatility in design allows it to be used for many rack applications and meet all of the latest fire codes. This steel pallet shelving decking has a smooth surface to prevent boxes from snagging as they are handled on the rack's deck as compared to wire deck shelving which is infamous for shredding boxed inventory as they are slid across the surface of the decking. Typical steel gauges for the Pro Deck 50™ are available from 18-22 gauge and can be ordered as high as 14 gauge depending on capacity requirements. Using Pro Decks 50™ Versa Shelves, you can convert any Pro Deck 50™ into a working beam and shelf on any major brand of racking, that is you don't need the front and back beam eliminating that entire expense!
Smooth, flat 50 percent open decking used with pallet racks and shelving, meets the requirements for NFPA13 Fire Code.
High strength – Pro Deck has a weight carrying capacity from 1,000# – 5,000# per deck!
No Catch Points – the smooth surface of this steel pallet rack decking prevents snag on pallets, boxes, carpet racks, or expensive products.
Highly Versatile Decking – perfect for storing everything from small boxes to heavy automotive parts and gives products full support underneath, unlike wire decks and corrugated rack decks. The G90 galvanized decks are great for industrial applications indoors, outdoors or in harsh environments including freezers and coolers.
Aesthetically Pleasing – shiny and highly reflective surface makes it attractive enough for use in retail stores. These steel pallet rack deckings fit securely within the step of the beam and do not interfere with the labels like waterfall wire decks. Pro Deck also allows light penetration and air circulation.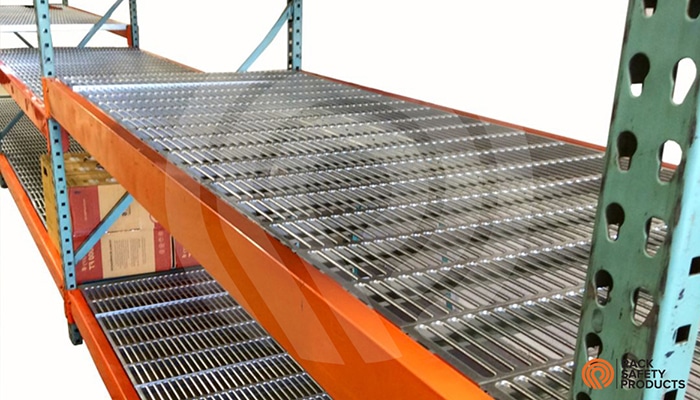 Most Versatile Pallet Rack Decking on the Market
Our steel pallet shelving fits virtually any size beam.
Typical decks are 23 ½" wide and consist of four 5 7/8" panels attached together to create a high strength deck.
Panels can be shuffled to mix and match almost all standard beams.
Pro Deck can be installed in pallet racks front-to-back in the steps of the beams for a flush mount.
Most popular lengths fit 32", 36", 42", 44" and 48" deep racks, but can be supplied in custom sizes from 12" – 144" long.
Pro Deck can also be installed left-to-right on ledge angles for a low-profile rack shelf (eliminates the cost of the rack beams and reduces the vertical height). This "versa-style" shelf is ideal for hand picking from shelves at lower levels and pallet storage above in upper levels.
This steel rack shelf decking can even be installed in rivet style shelving instead of particle boards and also installed in steel clip shelving instead of solid steel shelves.
New fire codes call for any shelf over 30" deep to be a minimum of 50% open to allow smoke to travel upwards and sprinkler water to flow downward.
Shelves are available in low profile 1 ¼", 1 ½" and 2" high and various steel gauges to suit any application.
Installation is fast and no hardware attachments are necessary for front to back mounting.  The "versa-style" left to right installation only requires one tek screw at each end to hold the slotted pallet rack decking in place on the support angles that are attached to the rack uprights.
Pro Deck is protected by US and international patents.
Interested on Prodeck 50?
Request more info.
Call us now: (951) 395.0280
Specification
Decking or shelves are constructed with multiple panels to complete a flat steel, high-capacity shelf surface with 50% to 56% open area Decks and shelves are available with panels widths from 5.875″ thru 6.0625″
Profile: 1-1/4″ to 2″
Width: 17-7/8″ to 24″1/8″
Length: 20-3/8″ to 96″
Capacities vary with profile, length, and gauge of steel
Capacities range from 450 lbs. to 5,000 lbs.
Finish: steel is pre-galvanized
Sheet metal thickness: 24 gauge, 22 gauge, 20 gauge and 18 gauge
Panels are riveted together
Satisfies NFPA and fire code regulations
Pro Deck can be used as decking on pallet rack beams or can be used to create a shelf level WITHOUT a beam (additional versa supports needed)
Applications
Retail storage or decking
Small products or Broken case picking
Computer room shelving
Steel shelving requiring 50% open area
Bulk rack shelving requiring 50% open area
Carpet rack
Furniture rack
Medical files