PALLET RACK PROTECTION




Steel Guard Rails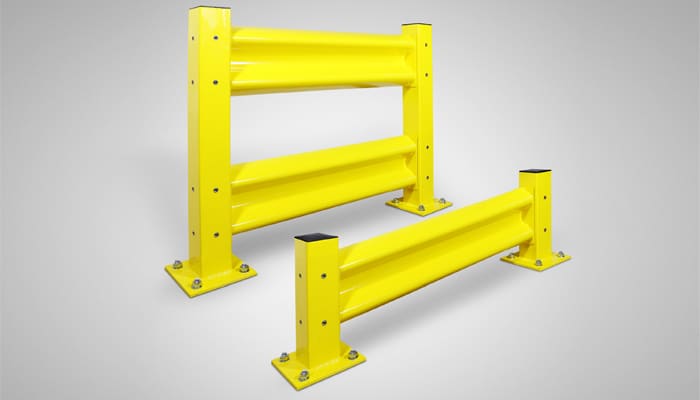 Steel Guard Rails
Staying safe at work is the ultimate goal, but life isn't always that easy. We understand that accidents happen; plus, when accidents happen, they can cost your business thousands of dollars. While we cannot stop every accident from happening, we can help protect against costly repairs with preventative measures like steel guard rails.
Here at Rack Safety Products, we are dedicated to the safety of warehouses and distribution centers across America. It is because of this dedication that we proudly offer high-quality guard rails to help protect you, your employees, and your business.
Steel Guard rails protect machinery, walkways, in-plant offices, personnel, inventory, and equipment from damage or injury. The WorldRail is powder coated safety yellow to provide maximum visibility in every facility. If you have any questions about our steel guard rails, please do not hesitate to reach out to our friendly customer service team.
4-3/4″ x 4-3/4″x 3/16″-thick post
Posts available in 42″ or 18″ heights
4-way designed post, punched on all sides for maximum versatility
10″ x 10″ x 1/2″-thick footplate
Preinstalled stainless steel threaded inserts for fast installation
(4) 1/2″ dia. Grade 5 bolts included per rail
Post caps and snap-in button plugs included
(4) 7/8″ dia. anchor holes to accept 3/4″ dia. anchors (sold separately)
12″ high x 1/8″-thick, double-ribbed rail design
Rail lengths from 2' thru 10' on post centers, in 1' increments
4-way designed post, punched on all sides for maximum versatility
(4) 7/8″ dia. anchor holes to accept 3/4" dia. anchors (sold separately)
Powder coated safety yellow for maximum visibility
High-impact post caps and snap-in button plugs included
Custom rail lengths available
Optional lift-out rail cuffs for easy access to secure areas
Cuffs will extend post centers by 1-1/2″ (ex. 48″ rail will measure 49-1/2″ overall)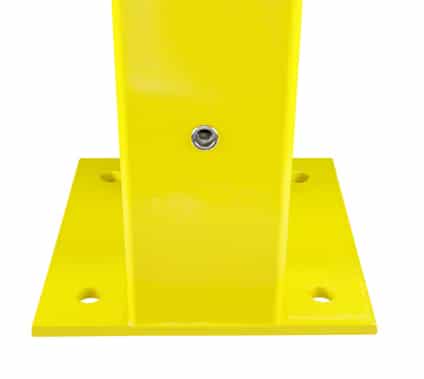 Flush Post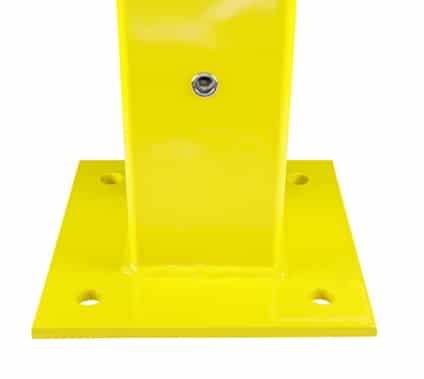 Center Post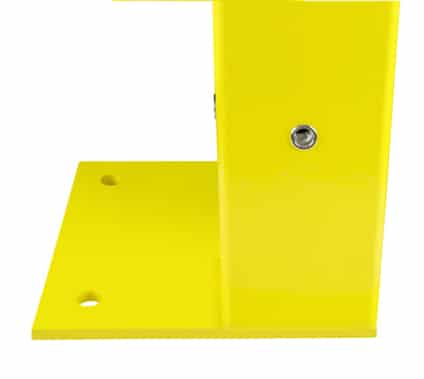 Corner Post