V-NOSE RACK POST PROTECTOR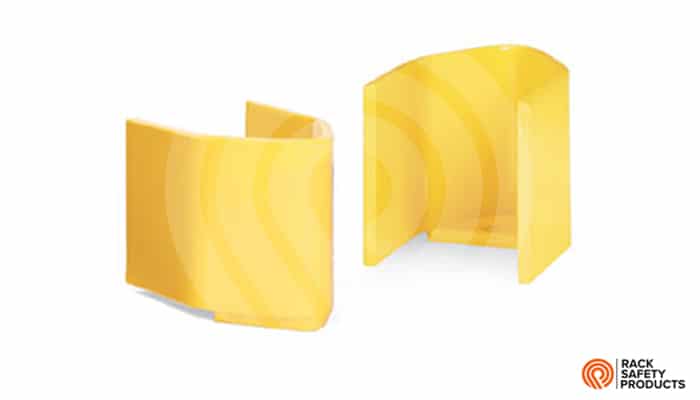 V-Nose Low Post Protector
Acting as an aisle deflector, the V-Nose rack upright post protector takes the force of impact by forklifts providing an extra layer of protection for your pallet rack. The V-Nose rack post protector mounts in front of upright columns along the aisles, providing protection against low forklift damage. The steel rack protector is installed by drilling into the concrete floor with a wedge anchor that is provided with each VGuard. This steel rack protection is ideal in warehouses that have narrow aisles because the chance of damaging your rack is greatly increased (approximately 56"-72" wide aisles). Although small, this V-nose pallet rack post protector offers the most cost-effective solution for protecting your rack but lacks full protection from high impacts. By protecting your pallet rack using our column guard, you'll maximize the life span of your pallet rack and reduce the need for repairing damaged rack in the future. Veteran warehouse managers and safety experts understand the importance of investing in proper pallet racking corner post protector products, especially in higher risk areas. Knowing that accidents are inevitable, these safety managers recognize that the cost of replacing damaged uprights (considering unloading, disassembling, replacing and reloading the racks) exceed the initial investment of reinforcing their pallet rack with v-nose rack post protectors.
Reach out to our sales team at (951) 395-0280 if you have further questions or would like to inquire about our V-Nose rack upright post protectors.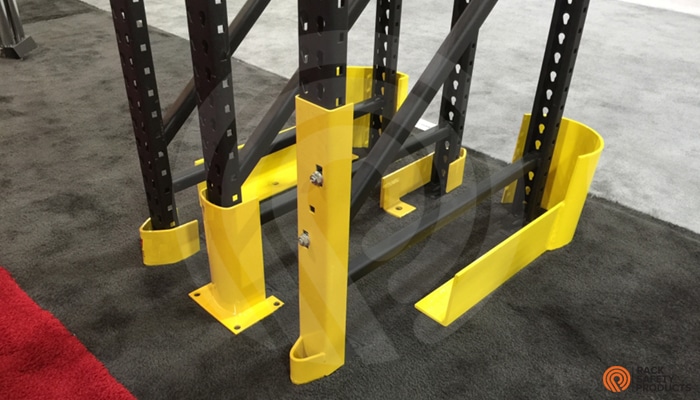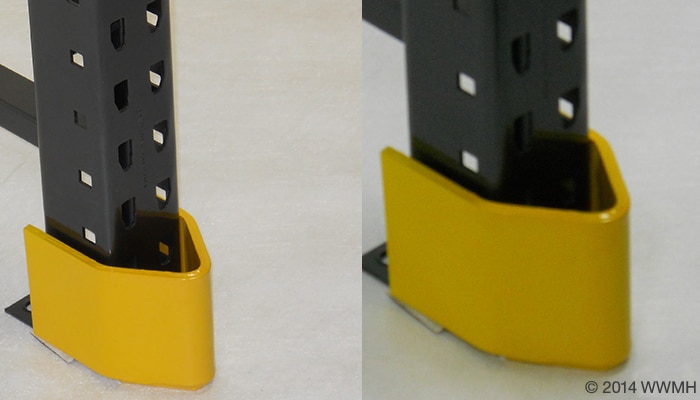 Benefits
The Vguard Post Protector adds protection to any rack upright column

Mounts and installs over standard footplate size (3.25-2.5″) for maximum versatility

Rigid steel rack guard deflects forklift outriggers

Fortify down aisle rack columns in standard or very narrow aisles

Low profile design allows this rack post protector to fit under low level beams

Fits 3" wide upright columns with other column widths available to fit most brands of pallet rack
Features
4" High Protection

Weight: 7lbs

Anchor hole is located inside the bull nose

3/4" x 4" wedge anchor

5/16" thick steel construction
Notes
The VGuard Post Protector will not work with pallet rack beams that are close to the ground (below 4")

The VGuard Post Protector was designed to fit standard footplate sizes and may work with larger sized foot plates.
| SIZE | PART # | DESCRIPTION | STYLE |
| --- | --- | --- | --- |
| 4″ | NDPV0403125Y | outrigger deflector, bolt to floor | A) VGuard |
| 12″ | NDPP1204000Y | traditional bolt to floor design | B) ColumnGuard |
| 18″ | NDPP1804000Y | traditional bolt to floor design | B) ColumnGuard |
| 24″ | NDPP2404000Y | traditional bolt to floor design | B) ColumnGuard |
| 24″ | NDPW2403000Y | bolt on design and floor design | C) WorldGuard |