Pallet Rack Safety Enclosures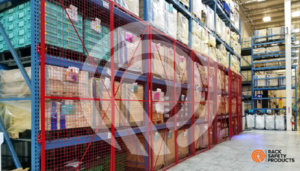 Pallet Rack Enclosures Secure Inventory
Secure inventory and the contents of existing pallet racks while preventing inventory shrinkage with WireCrafters Pallet Rack Enclosures. Existing facility pallet racks can be completely enclosed with standard wire mesh panels and doors to secure and control high value inventory. Modular sized wire mesh panels are quick to install and are inherently stronger than competing pallet rack enclosing systems.
WireCrafters Pallet Rack Enclosures will control access and help prevent theft of your high value inventory items. A complete pallet rack enclosure consists of wire mesh panels on the back, ends, and top of the rack, with access doors on the front side.
Pallet Rack Enclosure Specifications & Details
WireCrafters panels and doors are made of 10-gauge wire welded in a 2″ x 2″ square mesh. The wire mesh is then welded into a 13-gauge rolled formed angle frame. Pallet rack enclosure end panels are attached to the pallet rack end with flush mount angle clips. To separate multiple bays, end panels are manufactured with a flat frame which allows the panels to be attached to the pallet rack end with self-tapping screws. Back panels are also attached directly to the rack with angle clips. WireCrafters stocks three different mounting clips that allow an offset which ranges from flush mount (or no offset) up to 6″. These mounting clips allow your pallet load to overhang but still maintain inventory security and safety for workers. Offset clips come in lengths up to 12″ long which allows you to mount panels between back-to-back rows of pallet racks, providing a strong and secure wall to two rows of rack simultaneously.
WireCrafters manufactures enclosure panels the same width as your beam which gives your facility optimal security for your products and inventory stored on existing pallet racks.
Standard sized panels 4′-0″ or 5′-0″ high, match beam length in width.

Panels made of 2″ x 2″ x 10 gauge welded wire mesh-other meshes available

Panels are framed in 1 1/4″ x 1 1/4″ x 13-gauge steel angle.

Panels attach directly to rack with mounting brackets.

Multiple mounting points (seven) on ends of each panel.
Stack panels one on top of the other to reach desired height.

Access racks via double sliding doors, or double hinged doors.

"Above the Top" mounting allows panels to extend above top rack beam.

Welded wire construction allows for field modifications that look factory finished.

Panels can be mounted to support posts if stand-alone system desired.

Heavier options available.