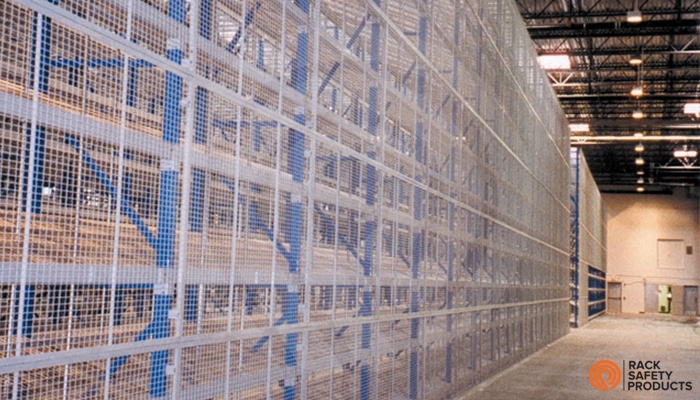 Pallet Rack Back Guards
Protect workers and equipment from falling items with back guards for pallet racks. Wire mesh rack guard panels bolt directly to the back of your existing pallet rack uprights creating a sturdy barrier between stored items and the ground below.
Improve Warehouse Safety
Quick and easy to install, wire mesh rack guard backing panels provide additional safety and secure stored items from accidental falling or shifting.
Constant Accident Prevention
Durable all welded angle frame wire mesh rack guard panels give constant protection from falling items. Pallet rack backing panels prevent spillage, while also stopping items from falling into aisle ways, therefore protecting personnel while containing inventory.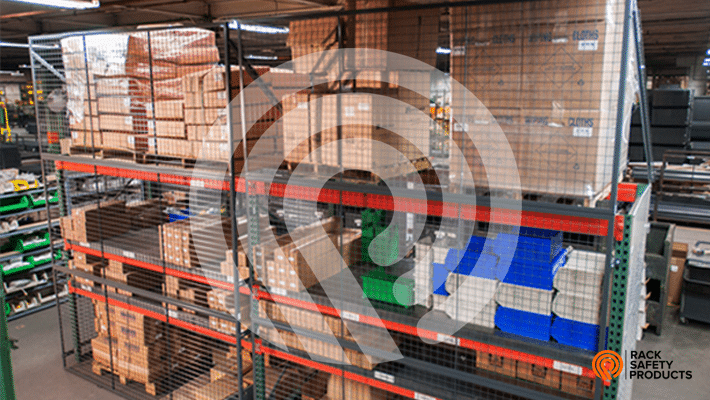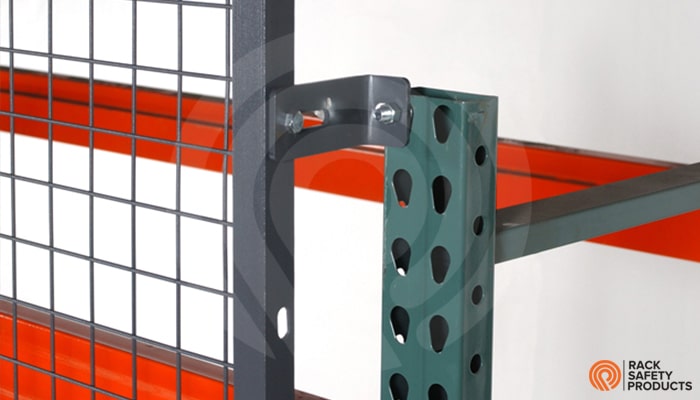 Standard sized panels 4′-0″ or 5′-0″ high, match beam length in width.

Custom size panels available.

Panels made of 2″ x 2″ x 10 gauge welded wire mesh.

Flat steel stiffeners welded behind mesh for extra rigidity.

Pallet Rack Backing Panels attach directly to rack with mounting brackets.

Multiple attachment points (seven) on ends of each panel.

Offset brackets allow for load to overhang rack beams.

Stack RackBack® panels one on top of the other to reach desired height.
"Above the Top" mounting allows panels to extend above top rack beam.

Angle frame design gives installer clear access to hardware, speeding installation.

Assembly hardware is inaccessible from the exterior of the partition.

Standard 3/8″ assembly hardware is the heaviest in the industry.

May be started at the floor or at any level where protection is required.

Pallet rack backing panels can be mounted to support posts if standalone system desired.

Heavier options available.
Panels stocked in 1′ wide increments. Four brackets per panel are required for installation.
Four Foot High Panels
Five Foot Hich Panels
Part #
W x H
Weight (lbs.)
Part #
W x H
Weight (lbs.)
BACK64
6′-0″ x 4′-0″
27
BACK65
6′-0″ x 5′-0″
31
BACK74
7′-0″ x 4′-0″
34
BACK75
7′-0″ x 5′-0″
39
BACK84
8′-0″ x 4′-0″
40
BACK85
8′-0″ x 5′-0″
46
BACK94
9′-0″ x 4′-0″
44
BACK95
9′-0″ x 5′-0″
51
BACK104
10′-0″ x 4′-0″
47
BACK105
10′-0″ x 5′-0″
55
BACK124
12′-0″ x 4′-0″
74
BACK125
12′-0″ x 5′-0″
84
Off-Set Mount Brackets
Panels mount to the pallet rack upright with an offset bracket. Mounting brackets from flush mount to 12″ off-set available. Four brackets are required per wire mesh panel.
Off-Set Mount Brackets
Panels of wire mesh for pallet racking may be mounted to free standing posts for a separate "stand alone" system.
Panels
Shall be 10 gauge steel wire welded into 2″ x 2″ center to center square mesh, securely welded into a frame of 1 1/4″ x 1 1/4″ x 13 gauge steel angle factory punched with 7/8″ x 7/16″ slotted holes to accept 3/8″ mounting hardware. Holes on vertical frame shall be punched on 6″ centers. Panels six or seven feet wide shall have one 1/4″ x 3/4″ flat stiffener, wider panels receive two 1/4″ x 3/4″ stiffeners. Panels wider than ten feet shall be framed in 1 1/2″ x 1 1/2″ x 1/8″ steel angle and receive three flat stiffeners.
Posts (optional)
Shall be made of 2″ x 2″ x 14 gauge steel tubing. Base plates of 2″ x 7″ x 1/4″ steel flat with two 7/16″ round holes for anchoring, shall be welded to each tube. Posts are factory drilled with 1/2″ holes to accept hardware for mounting panels.
Hardware
Shall be 3/8″ standard thread grade two plated nuts and bolts. Floor anchors are 3/8″ wedge type-provided.