PALLET RACK PROTECTION
Forklift Impact Sensor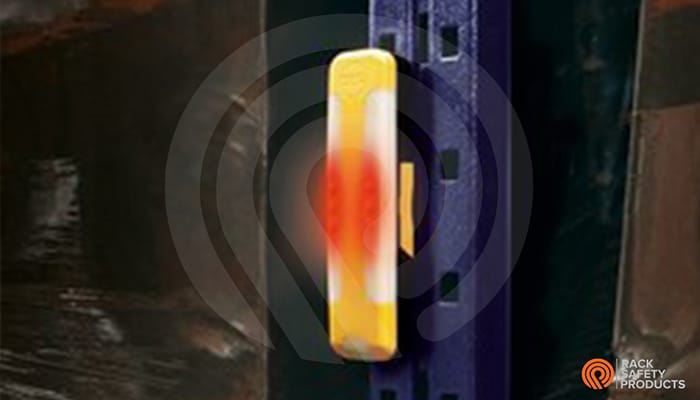 What if you had a device that could save you money and time while giving you peace of mind by allowing you to have eyes on your warehouse 24/7? Can you imagine the tasks you could get completed without having to worry about the safety and integrity of your pallet rack? We are here to tell you we have such a device that works as a high-tech impact detector; this will save you money and, in turn, help you grow your bottom line. We offer a forklift impact sensor called the RackEye™.
RackEye™ is a revolutionary safety system that monitors your pallet racking system around-the-clock on a 24-hour, seven-days-a-week basis. Using high tech movement sensors, this forklift impact monitor can differentiate between everyday rack vibrations and rack impact detection. When pallet rack damage is detected, an immediate alert is sent out to your email, smartphone or tablet. By using the smartphone app, this forklift impact sensor allows users to monitor a vast network of pallet racking and receive real time data streamed straight to your devices without having to manually check for damages. Timing can be critical in the case of severe rack damage, get notified as soon as it happens so you can address the problem quickly and get it taken care of. Most fork truck damage goes unrecorded due to fear of being penalized, and it can be costly, but with this fork lift impact monitor, you'll have a better idea of when, where, and who did it.
Intelligent fork lift impact monitoring system
Oversee your warehouse's pallet rack 24/7
Immediate alerts to your designated users
Fast and ongoing return on Investment
Maintain control remotely
So, if you don't want to manually check for damage or want to find out who has been damaging your pallet rack and your profits, then you need our high-tech forklift impact sensor. You need the RackEye™