Steel Pallet Racking Support Bars




Pallet Support Bars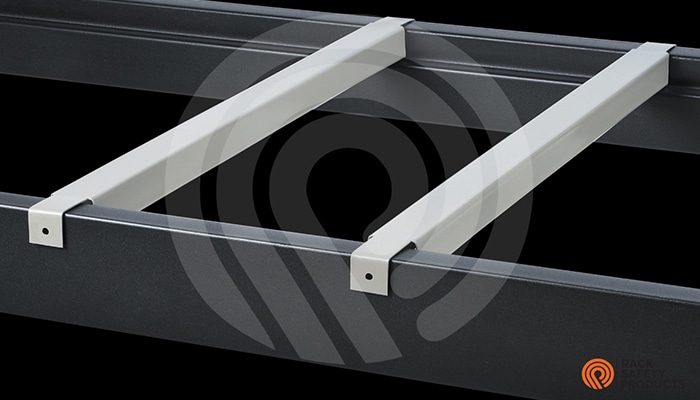 Steel Pallet Racking Pallet Supports
Our pallet support bars add strength and safety to your pallet rack by distributing the weight of your load, preventing beam spread and decreasing potential damage to wire decking and product. These steel pallet racking support bars can be used as an open deck support or with wire decking on pallet rack systems. Cross bars are available in 14- or 16-gauge steel and come with a galvanized finish.
These steel pallet racking bars come in three standard styles:
Double Flanged Style – Lays on top of the rack beams to evenly distribute weight, prevent beams from spreading, fits all 1-5/8" Step beams.
Hat Style – This is a flush fit design for the 1-5/8 step beam, most cost effective and mounts with Tek screws.  There is no overhang to obscure product labeling on the beam.
Structural Style – Is a heavy-duty drop-in place design for structural steel beams.
If you'd like to learn more or wish to inquire about our pallet rack support bars, don't hesitate to contact us!
| Size (depth) | Part # | Capacity** | Width | HGT | Style |
| --- | --- | --- | --- | --- | --- |
| 36″ | NDCBF362140P | 1450 | 2″ | 1.625″ | Double Flanged |
| 42″ | NDCBF422140P | 1450 | 2″ | 1.625″ | Double Flanged |
| 42″ | NDCBH422140P | 1250 | 2″ | 1.625″ | Hat Style |
| 42″ | NDCBS422140P | 1250 | 2″ | — | Structural |
| 44″ | NDCBF442140P | 1350 | 2″ | 1.625″ | Double Flanged |
| 48″ | NDCBF482140P | 1250 | 2″ | 1.625″ | Double Flanged |
| | | | | | |
**All capacities (lbs.) are based on uniform distributed loads